Dynamic Delivery is headed by Luke O'Byrne. He has over 30 years of experience including 15 years in a broad range of Director roles in Commissioning and Provider Organisations and has worked at a senior level in Councils and Higher Education.
He is a very experienced and extremely effective programme and project manager who delivers sustainable change by transforming services.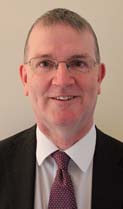 He is highly skilled at:
Developing community based services to improve effectiveness and efficiency, increase value for money and reduce reliance on Hospital admissions
Systematically improving clinical and wider governance systems to ensure that services are safe and effective
Engaging stakeholders and working in partnership to deliver sustainable improvements
Coaching, developing and mentoring staff to improve performance and increase effectiveness
He was an adviser to the Department of Health on nursing issues for over ten years, chaired the Learning Disability Forum at the Royal College of Nursing and acted as the Honorary Treasurer of a Section at the Royal Society of Medicine.
Luke works with a small number of hand-picked experts to deliver sustainable change rapidly and effectively.